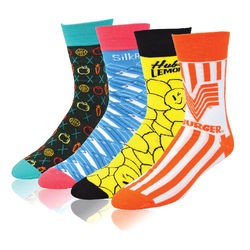 Larger Image
Pantone Color Matched Dress Socks with Knit-In Logo (Longer Ship, Higher Mins)
P10010408

From $3.00 - $5.64
Now we aren't saying these socks are drinking tea and eating crumpets in their spare time, but these are some classy dress socks.
These are sure to class up any of your events.
PMS matched and great quality, our dress socks don't just look good, they feel good too.
Size: Our standard dress sock is One Size Fits All.
Materials: 80% Cotton, 15% Nylon, 5% Spandex.
Colors: All colors of the pantone color chart are available for the imprint and base colors of this product. Please note that our socks can include up to 6 colors, but only 3 of which will be exact PMS matched. The other colors in the socks will be a close match, but not exact.
Qty
500
1000
2500
5000
10000
MORE
Each
5.64
4.65
3.64
3.33
3.00
Call

---
Pricing is per piece and includes a knit-in logo with up to 6 colors and 3 pantone matches. Set up charges may apply, see Set-Up section. Additional options may be available, see Extras, Packaging, & Imprinting sections for details.
Rush Level 1
Call for availability
| | | | | | | |
| --- | --- | --- | --- | --- | --- | --- |
| Qty | 500 | 1000 | 2500 | 5000 | 10000 | MORE |
| Each | Call | Call | Call | Call | Call | Call |
---
Full Color Hang Tag
| | | | | | | |
| --- | --- | --- | --- | --- | --- | --- |
| Qty | 500 | 1000 | 2500 | 5000 | 10000 | MORE |
| Each | 1.08 | 0.75 | 0.58 | 0.42 | 0.37 | Call |
---
Woven Tag
| | | | | | | |
| --- | --- | --- | --- | --- | --- | --- |
| Qty | 500 | 1000 | 2500 | 5000 | 10000 | MORE |
| Each | 1.00 | 0.74 | 0.67 | 5.80 | 0.58 | Call |
---
Individual Polybag
| | | | | | | |
| --- | --- | --- | --- | --- | --- | --- |
| Qty | 500 | 1000 | 2500 | 5000 | 10000 | MORE |
| Each | 0.25 | 0.17 | 0.13 | 0.08 | 0.08 | Call |
---
Full Color Wrap Tag
| | | | | | | |
| --- | --- | --- | --- | --- | --- | --- |
| Qty | 500 | 1000 | 2500 | 5000 | 10000 | MORE |
| Each | 1.42 | 1.08 | 0.92 | 0.75 | 0.67 | Call |
---
Full Color Sock Box (1 Socks per Box)
| | | | | | | |
| --- | --- | --- | --- | --- | --- | --- |
| Qty | 500 | 1000 | 2500 | 5000 | 10000 | MORE |
| Each | 4.58 | 3.33 | 3.00 | 2.83 | 2.67 | Call |
---
Set-Up Info
Set up charge: $40.00
Standard Imprint
Imprint Method: Knit-in Jacquard
Imprint Location: All over
Imprint Area: all over, ask for a design template
Maximum # Imprint Colors: 6
Related Products