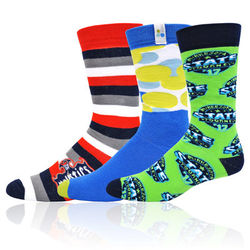 Larger Image
Pantone Color Matched Athletic Socks with Knit-In Logo (Longer Ship, Higher Mins)
P10010409

From $4.11 - $6.70
The gold medalist of giveaways, our athletic socks will make you a champion.
These high quality Pantone matched athletic socks are an original and exciting offer. Let our socks go the extra mile for you!
Size: Our standard athletic sock is One Size Fits All.
Materials: 80% Cotton, 15% Nylon, 5% Spandex.
Colors: All colors of the pantone color chart are available for the imprint and base colors of this product. Please note that our socks can include up to 6 colors, but only 3 of which will be exact PMS matched. The other colors in the socks will be a close match, but not exact.
Qty
500
1000
2500
5000
10000
MORE
Each
6.70
5.77
4.88
4.35
4.11
Call

---
Pricing is per piece and includes a knit-in logo with up to 6 colors and 3 pantone matches. Set up charges may apply, see Set-Up section. Additional options may be available, see Extras, Packaging, & Imprinting sections for details.
Rush Level 1
Call for availability
| | | | | | | |
| --- | --- | --- | --- | --- | --- | --- |
| Qty | 500 | 1000 | 2500 | 5000 | 10000 | MORE |
| Each | Call | Call | Call | Call | Call | Call |
---
Full Color Hang Tag
| | | | | | | |
| --- | --- | --- | --- | --- | --- | --- |
| Qty | 500 | 1000 | 2500 | 5000 | 10000 | MORE |
| Each | 1.08 | 0.75 | 0.58 | 0.42 | 0.37 | Call |
---
Woven Tag
| | | | | | | |
| --- | --- | --- | --- | --- | --- | --- |
| Qty | 500 | 1000 | 2500 | 5000 | 10000 | MORE |
| Each | 1.00 | 0.74 | 0.67 | 5.80 | 0.58 | Call |
---
Individual Polybag
| | | | | | | |
| --- | --- | --- | --- | --- | --- | --- |
| Qty | 500 | 1000 | 2500 | 5000 | 10000 | MORE |
| Each | 0.25 | 0.17 | 0.13 | 0.08 | 0.08 | Call |
---
Full Color Wrap Tag
| | | | | | | |
| --- | --- | --- | --- | --- | --- | --- |
| Qty | 500 | 1000 | 2500 | 5000 | 10000 | MORE |
| Each | 1.42 | 1.08 | 0.92 | 0.75 | 0.67 | Call |
---
Full Color Sock Box (1 Socks per Box)
| | | | | | | |
| --- | --- | --- | --- | --- | --- | --- |
| Qty | 500 | 1000 | 2500 | 5000 | 10000 | MORE |
| Each | 4.58 | 3.33 | 3.00 | 2.83 | 2.67 | Call |
---
Set-Up Info
Set up charge: $40.00
Standard Imprint
Imprint Method: Knit-in Jacquard
Imprint Location: All over
Imprint Area: all over, ask for a design template
Maximum # Imprint Colors: 6
Related Products