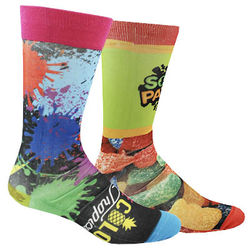 Larger Image
Thinner Crew Socks with All Over Full-Color Printing (Longer Ship, Higher Mins)
P10010405

From $3.31 - $7.40
Introducing Full-Color Socks.
You now have the option to print a design, logo, pattern or photo of your choice anywhere on the front and back of our socks!
Our unisex tube socks start out white and are dye-sublimated with your custom design, creating a fashionable, comfortable and vibrant full-color accessory.
Features:
Can print anywhere on the front or back of the sock; including the cuff and the toe!
Size: one size fits most
Materials: 100% Polyester
Colors: socks start out white
Qty
500
1000
2500
5000
10000
MORE
Each
7.40
5.66
4.38
3.85
3.31
Call

---
Pricing is per piece and includes double sided, full-color printing on each sock. Set up charges may apply, see Set-Up section. Additional options may be available, see Extras, Packaging, & Imprinting sections for details.
Rush Level 1
Call for availability
| | | | | | | |
| --- | --- | --- | --- | --- | --- | --- |
| Qty | 500 | 1000 | 2500 | 5000 | 10000 | MORE |
| Each | Call | Call | Call | Call | Call | Call |
---
Full Color Hang Tag
| | | | | | | |
| --- | --- | --- | --- | --- | --- | --- |
| Qty | 500 | 1000 | 2500 | 5000 | 10000 | MORE |
| Each | 1.08 | 0.75 | 0.58 | 0.42 | 0.37 | Call |
---
Full Color Wrap Tag
| | | | | | | |
| --- | --- | --- | --- | --- | --- | --- |
| Qty | 500 | 1000 | 2500 | 5000 | 10000 | MORE |
| Each | 1.42 | 1.08 | 0.92 | 0.75 | 0.67 | Call |
---
Full Color Sock Box (1 Socks per Box)
| | | | | | | |
| --- | --- | --- | --- | --- | --- | --- |
| Qty | 500 | 1000 | 2500 | 5000 | 10000 | MORE |
| Each | 4.58 | 3.33 | 3.00 | 2.83 | 2.67 | Call |
---
Individual Polybag
| | | | | | | |
| --- | --- | --- | --- | --- | --- | --- |
| Qty | 500 | 1000 | 2500 | 5000 | 10000 | MORE |
| Each | 0.25 | 0.17 | 0.13 | 0.08 | 0.08 | Call |
---
Set-Up Info
Set up charge: $40.00
Set-Up Charges Notes: Setup charge is for full color printing
Standard Imprint
Imprint Method: Dye-Sublimated
Imprint Location: All over
Imprint Area: all over, ask for a design template
Maximum # Imprint Colors: Full Color
Related Products